This is an exciting day. We have been working on the new release of FinFolio 2.0 for more than 2 years. It is a modern, mobile-first web app that runs equally well on desktop browsers and tablets. We run and host it for you, or you can install it and run it yourself on your servers. It runs in parallel with our current desktop product.
Today is the official launch of FinFolio 2.0, the best portfolio management and trading software available to investment advisors and professional wealth managers. It has been in use by some of our clients for almost a year. Congratulations to everybody at FinFolio and around the world who worked so hard to create this product. Great job!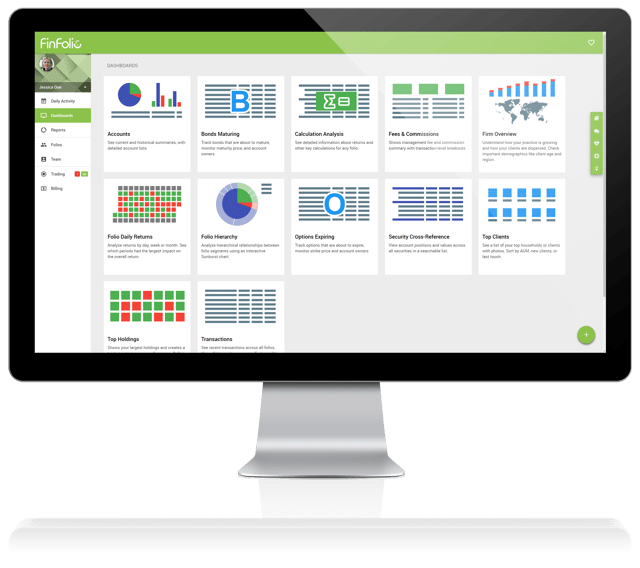 FinFolio 2.0 makes it simple to do several very complicated things. Over the next few weeks and months I will be diving deep into specific software features. But for launch day I'll just hit the highlights.
Dashboards (shown above) are a visualization tool to display metrics and key performance indicators across your practice on a single screen. View exposure, demographics, transactions, bond maturity, option expiration, etc. FinFolio comes with 12 standard dashboards, but the real power is in customization. All dashboards are editable and users can create new dashboards to use themselves or share across the firm.
Reports are never more than 2 clicks away. FinFolio has the standard complement of portfolio, transaction, return, and fixed income reports. But the real power is in the report component library, which has hundreds of pre-configured charts and data sets that can be dragged onto any report. It is extremely easy to build and customize your own reports.
Folios show hierarchical lists of your households, clients and accounts, the team members that manage each folio, with current market values. Drill in to any folio for detailed information about their holdings, trading strategies, transactions and more. Again, everything is customizable, from the main folio lists, to the configuration of the drill-in screens.
Trade households with traditional block trading wizards or a powerful rebalancer with flexible target models. The integrated tax engine lets you harvest lots and intelligently raise and allocate cash. Push the trades through the trading pipeline, optionally blocking them over the FIX network and working trades across brokers and custodians.
Client portals let you publish live data sets from the same report component library that is available for reports. These data sets are richer than what your clients can see at their custodian. Securely share documents with your clients and brand the portals with your colors and logos to constantly remind them who you are.
That is just the Top 5! I didn't mention billing, daily activity, the folio timeline and numerous integrations we have with other software. More to come...
Have I peaked your interest? Interested in checking out FinFolio 2.0? If you are quick, you can join our FinFolio 2.0 launch webinar at 11am MST today, where we will be showing an overview of the new product. Click this link to register:
https://attendee.gotowebinar.com/register/3254666953609402882
If you are reading this after the webinar, contact us to get the ball rolling. We can give you a demo or set you up for a trial. Thanks!