Today we launch the next generation of FinFolio's client portal. It has numerous improvements over the old portal.
Overview
The FinFolio client portal is your online interface with your clients. You can exchange documents with them in the secure document vault, including your quarterly reports which avoids printing costs. Give clients live access to any FinFolio report, allowing them to self-service many information requests, further reducing your support burden.
Every element of your client portal is customizable. You can remove access to certain functionality or add new functionality like blogs and informational pages. Your portal will be customized with your fonts, graphics and other branding.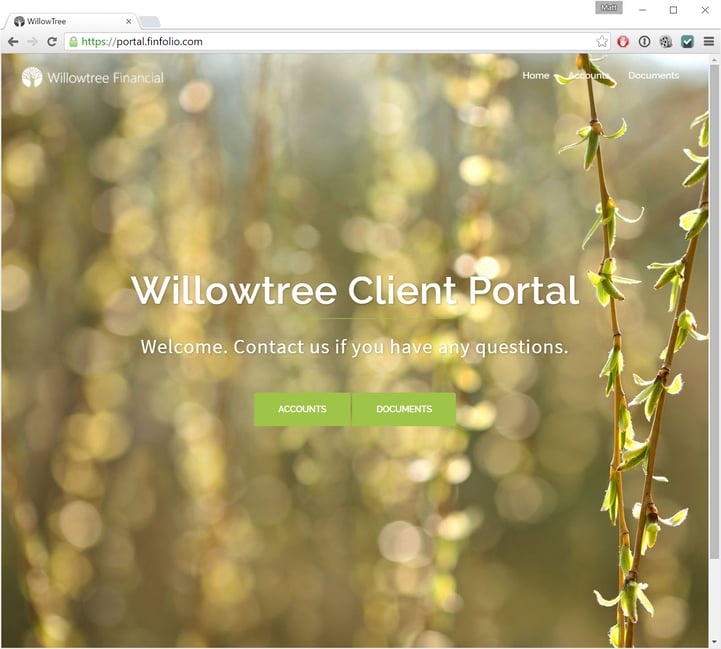 100% compatible with WordPress plugins and themes
The new client portal is built on a customized version of WordPress and is 100% compatible with all WordPress plugins. This makes the portal extensible by allowing you to install new functionality from the vast WordPress plugin library. You can even build custom plugins using in-house developers or by contracting with a 3rd party.
Portals now use WordPress themes, giving you access to a large library of free and reasonably-priced themes. We can port the theme from your old portal or you can select a newer and more modern theme from our library. Each theme can be further customized with your logo, fonts, colors and other graphics.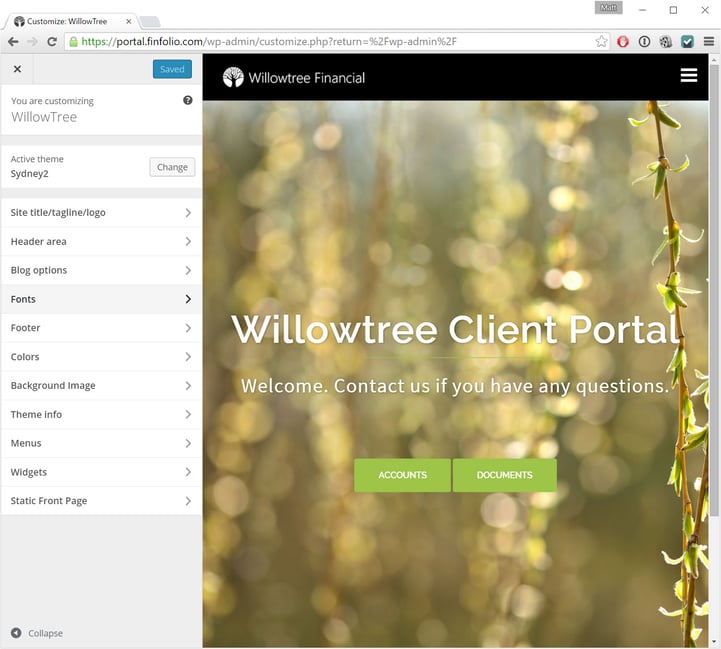 Note that if FinFolio is hosting your portal, we need to approve any plugins or themes before they are placed on your server.
Integrates with existing cloud storage provider
Most companies now have a corporate account with DropBox, Box.com or another cloud storage provider. Our new portal will integrate with your existing provider, allowing you to create a client folder structure and expose indvidiual client folders on the portal. If you do not have an existing cloud storage provider, FinFolio will provide you with storage via Box.com.
These cloud storage providers power the Document Vault area of the portal where you upload static reports and your clients can refer back to them at any time. These can be your quarterly portfolio management reports, an annual client review report, and even financial plans and legal documents.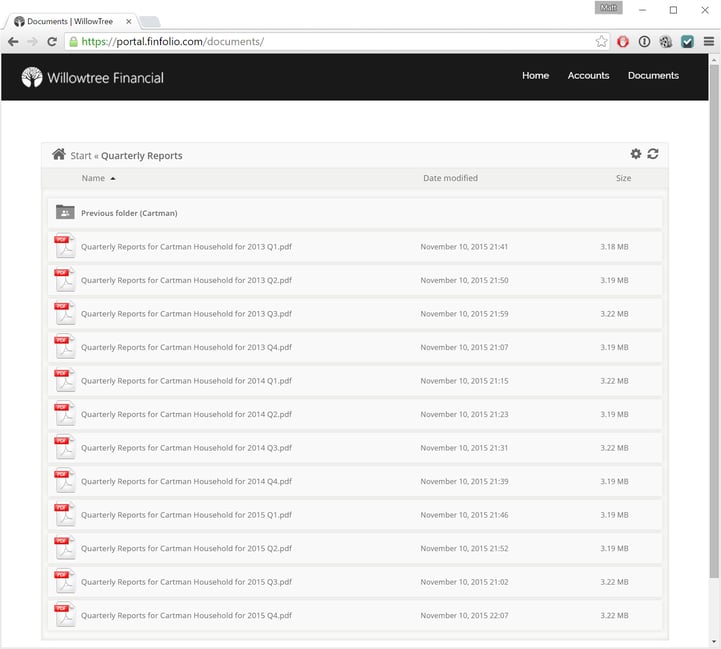 Self-service client reporting
The Accounts area of the web site is powered by FinFolio's report widget, which I blogged about last month. The widget lets your clients run their own reports using live, posted portfolio management data. This is the same capability your clients arleady have on your custodian sites, but now they can produce consolidated, current reporting across all custodial providers via your client portal.
You decide what reports to expose, and which clients can view them. Any report in your library can be placed on your portal, including custom reports that you created. Self-service reporting will reduce your client support load allowing you to maintain a streamlined practice as your firm grows.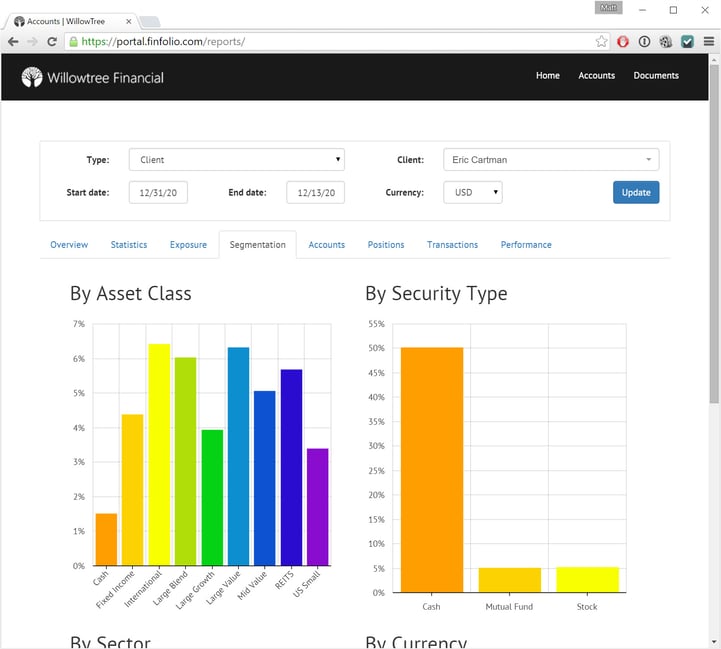 3x faster than old portal
We have found the new portal to run much faster than the old portal, up to 3x faster on some server configurations.
Simplified administration
The old client portal was difficult to adminster and required interaction with FinFolio support. The new portal is built on modern design principals with menus and functionality more clearly laid out. These improvements include:
Modern UI - The user interface is cleaner and more in line with the modern web.
Themes - You can easily change themes or modify fonts and colors within a theme.
Users - It is much easier to add users. Just enter the user name and email address, and an email is automatically sent to the client with further instructions.
Menus - Easily create menus and sub-menus.
Blogs - Easy to set up and maintain a blog.
Installation - If you are self-hosting, the installation process is much easier than before.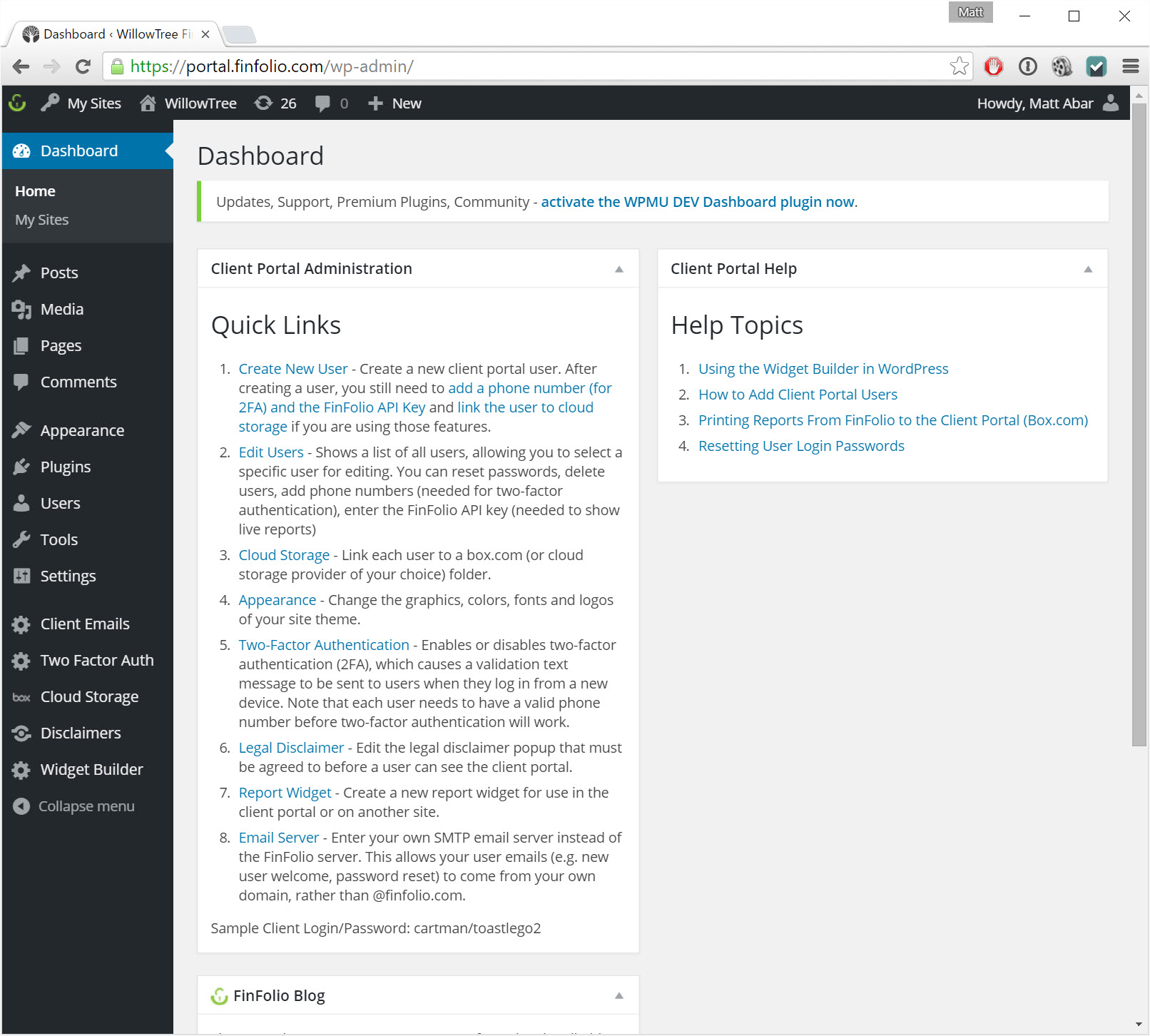 Runs on Linux or Windows
If you are self-hosting, the new client portal will run on Linux or Windows machines. Use Windows for its ease of administration or install it on Linux and avoid licensing costs. Note that this only applies to the client portal--other portions of the FinFolio technology stack do require the Windows operating system.
Streamlined User Management
The next generation client portal makes it much easier to manager your users. Your employees never see client passwords and hence avoid many sticky liability issues. Users now manage their own passwords and can reset them without your help if they are ever lost or fogotten.
2-Factor Authentication
2-Factor authentication is an additional security check that notifies your clients when their account is accessed from a new computer or device. It prompts them to verify the new login before allowing the new device to access their account. This modern authentication technique has been rapidly adopted by many cloud services and is at the leading edge of web security. This can be disabled on a system-wide or client-by-client basis if you feel it is inapprorpiate for certain users.
Legal Disclaimers
Clients must agree to a legal disclaimer before accessing the portal. You can use our default disclaimer or provide your own text.
---
We hope you agree that Version 2 of our client portal was worth the wait. Contact us now for a demo or to schedule your upgrade.